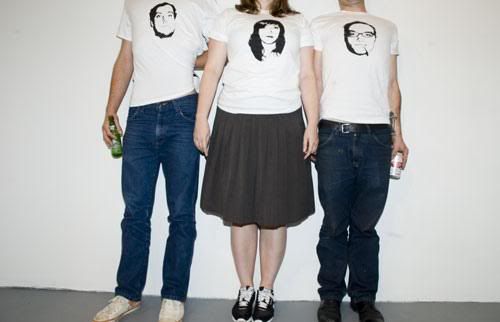 Clockcleaner steep themselves in controversy. They dine with it. They throw their arms around it as if greeting an old friend. Nirvana were apparently 'dogshit' according to lead singer John Sharkey, so they recorded an album whilst Sharkey was suffering from 'bi-lateral amnesia' and named it Nevermind.
Having this pious,
Kurt Cobain is holier than thou
devotion to Nirvana should, I thought, cause me to react in a spray of venom towards this bullshit merchantry. However, my inner critical opinion has tranquilised any and all war mongering - for Clockcleaner are ridiculously impressive. Listen to their 2007 full length 'Babylon Rules' and let the dark swagger of the opening track 'New In Town' web you in it's physically repulsive sonic air. I don't think I've ever heard a track #1 quite so fucking animalistic. It sounds like a 7 minute stalk through a trip you'd experience after smoking one of Buzz Osbourne's greying ringlets.
The rest of this record sounds like it could have come about after the splicing of a thousand or more influences went terribly wrong, but what I feel this soup-pot of noise rock boils down to is an intense love for Melvins interbreeding with a sexual preoccupation towards Pixies, all further hybridized until each member believes he or she is a functioning member of The Jesus Lizard.
I see contemporaries in Pissed Jeans, another viscerally bent out of shape punk troupe that has left the rule book at the front door to parade nakedly at the party. Of the records I've heard up to now; 'The Hassler', 'Nevermind' and 'Babylon Rules', I'd have to push 'Babylon Rules' as my opus of choice. It is unrelenting, cocky as all hell and quite frankly nauseating to the point where you need to listen to some Minutemen just to calm yourself down.
I thoroughly recommend this band. They've got just about enough old school in them for the 'punker than thee' council to perhaps enjoy them, and the right measure of 21st century clamour to be topical.
Babylon Rules (mediafire)
Nevermind (mediafire)