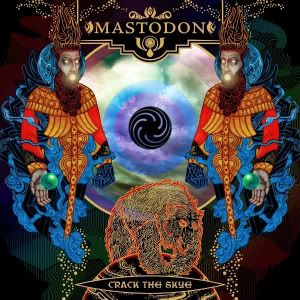 Genre: Progressive Metal / Hard Rock
Year: 2009
Recorded at Southern Tracks Studios by Brendon O'Brien
Reprise Records
Download Crack The Skye
Nothing but a concept album will do for the band lusting after the golden chalice of musical mastery. Typically though many fall short of the mark as feckless, pretentious stabs at maturity - leaving the few that do hit the target to sit loftily as true works of art. This is surely a hit or miss situation.
The initial beauty of Mastodon's work both past and present is testimony to their equal devotion to issuing forceful riffs, which serves to keep them rooted in heavy metal. Accompanied by a willingness to let melody twine itself a course wherever appropriate. You only have to dip a toe into 2006's Blood Mountain, with all it's sonic acrobatics and slow-burning skulduggery to grasp how detached from anything else on offer Mastodon really are.
Crack The Skye thrusts Mastodon further up towards the summit of all things metal, and see's the Atlanta quartet explore themes ranging from the great mystic Russian monk Rasputin through to inter-planetary notions of transcendentalism and beyond. Definitely a lot for the listener to wrap his thoughts around. The opener 'Oblivion' is a thundering hammer-blow of a track which only pauses for breath come each somewhat restrained chorus, which, incidentally references Hinds' battle with head injuries after his unfortunate scuffle after the MTV Video Music Awards.
The panoramic sense of scope infused into the grain of Crack The Skye, is tantamount to any epic ever written - Bill Kelliher's cohesive thrashing drips with pure ambition and he along with lead guitarist Hinds really find some room to exercise their shared penchant for ultra-intricate guitar wondery - especially on Crack The Skye's twin bastions 'The Czar' & 'The Last Baron' both of which exceed the 10 minute marker, 10:54 & 13:01 respectively. The 4 parts to 'The Czar' do nothing but entrance the listener, clawing you into the heart and soul of what this record is - an electrostatic meander through space, flesh and mind, not a meander that's sluggish enough to dissapate your interest but a meander nonetheless.
The title track is nothing short of a monolithic slab of contemporary prog rock, bound by lashings of celestial harmony which cascade along in sync with the spiralling guitar. Courtesy of Scott Kelly (Neurosis) You're able to feel every vocal hook resonate with all it's might, every calamitous crash as Brann Dailor thumps his way around the drum set-up, as eventually you're led into the steely talons of a vocoder induced vocal-spasm, which if anything harks back to Blood Mountain and it's earthy aggression.
'Divinations' is Crack The Skye's flag bearer, the first single to be released is a towering melee of crunchy riffs and gnarly dual vocals - underpinned by equal servings of melody. Something that Mastodon have been more than willing to implement album wide, which will undoubtedly have its detractors in the fans who worshipped early Mastodon. Many of whom wanted a Leviathan or Blood Mountain 2.0 instead of seeing the band spread it's feelers further left field.
'The Last Baron' is a beautifully arranged valediction, and would suit nothing better than the soundtrack of our apocalypse as it broods along to Brent Hinds' cackling 'Hold my head on stable ground, watch as the earth falls all around' which to me suggests something innately symphonic about destruction. A few scrambled minutes at the heart see Mastodon take things off the boil for just a moment, but only for a moment. Unequivocally Mastodons best release, best release of the year so far, who knows however many years down the line will it be before fresh-faced young metalheads cite this album as their greatest influence? This is a band willing to explore all thats available to them instead of settling for signing on the dotted line, truly awe-inspiring stuff.
1. Oblivion
2. Divinations
3. Quintessence
4. The Czar
5. Ghost of Karelia
6. Crack the Skye
7. The Last Baron