This marks the first time I've been asked to review something, what a milestone.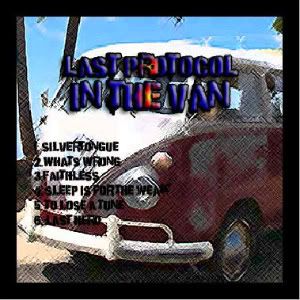 Last Protocol on Myspace
Last Protocol on Last.Fm
It's alarmingly obvious like a fist to the nose that Last Protocol are desperately keen to play their music, for everyone and anyone willing to take an interest. In a day & age where bandwagon acts plug away without depth or anything substantial to say, passion and meaning are surely valued commodities on the circuit - which this Lincolnshire Ska Punk band come armed to the teeth with.
Made up of four secondary school friends with a penchant for Punk they released 'In The Van' a seven track EP last April to really kick things up a gear. Vocalist Will Turner oozes so much charisma he should be given his own Double-O title and syncs together with lead guitarist Shane Bailey in a clinical but colourful manner, delivering briskly infectious hooks and grooves. 'Whats Wrong (Sammy Delonge) follows a character close to their hearts and 'Sleep Is For The Weak' deals with the frustration of insomnia. Both tracks come packaged as buoyant bites of sunshine Ska flecked with the odd uplifting saxophone riff. Track one 'Silver Tongue' is cryptic in it's lyrics but barefaced in it's desire to get your feet tapping, this is real revival stuff. The boys even throw in a cover of Radio by Rancid, surely a nod to the Californian punks who inadvertently brought the band together.
The band completed by bassist Will Tootell and drummer Ed Robinson - is quite frankly hot out of the womb yet instantly the passion is there, in time their musical chops will develop to bring out their full potential and as an avid music fan I'm psyched to see them evolve.