The Earth Sings Mi Fa Mi
Forget everything you know about the show pony jangling of today's preened teens of post hardcore, and start again with Boston's The Receiving End of Sirens. In 2005 they released
Between The Heart And The Synapse
and the resulting onset of bandwagon kids who had somewhat grown out of Jimmy Eat World rightly championed the band for their developed musical senses, at a time where a Blink 182-less Punk community was left licking it's wounds and awaiting the knock on the door from Fall Out Boy / My Chemical Romance.
Music has never been more of a commodity than it is now, some bands rush or are rushed by higher powers to machine build their albums and have them ready for distribution quicker than you can say 'major record label'. Dance Gavin Dance have put out three full lengths and an extended EP in just four years, I mean what on earth is that an attempt to do? Flood the market with their presence and just force a fan base into existence? Nevertheless I'd count myself a fan of their earlier work at least. But I digress...
The Receiving End Of Sirens released an album in 2007 through
Triple Crown Records
, under the title
' The Earth Sings Mi Fa Mi'
. Jam packed with so much tinkering and slight of hand you'd think Willy Wonka had a hand in it's production, it featured new vocalist Casey Crescenzo - a kid they picked up from California with a voice so lofty it could open the pearly gates themselves. The great umbrella of post hardcore is annoyingly fitting for 'Sirens style, as they fatten their spine of Heavy Rock with familiar Punk overtones and delicate pop sensibilities. They find enough room for bleeding veins of keyboard driven experimentations into their sound to boot.
I definitely recommend this album, even if it's just to dispel the haze of bands in 2009 that have tore chunks of sound out of 'Sirens still warm corpse.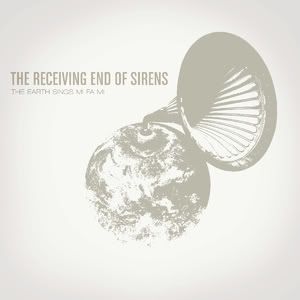 Download Here