Nina Hartmann is a talented young photographer from Chicago, Illinois, irrepressibly taking photos of the seething punk underground she calls her home. She is still a student, working hard towards her BFA at the School of the Art Institute of Chicago. Nina's persona is as much shrouded in a thick layer of the underground as many of the hardcore bands she associates with and photographs. To me her work takes shape as half a projection of her own inner workings and cognitive thought process and half a reaction to her cultural surroundings. Those surroundings offer Nina a staggering ammount of opportunities, she often photographs her friends and loved ones in usually unremarkable situations - exacting a love for banal photography and a keen eye for the vernacular. Nina's music taste is more often than not fiercely reflected in her images, at her core she is a self confessed punk rocker. She's also a big fan of shoegaze, in particular British dream pop band 'Slowdive' - all I've been listening to for the past few days is their 'Souvlaki' record, released in 1993. Pick that up if and when you can.
Hartmann is part of 'Young Healers', a publishing venture very much about displaying young photographer's work through printed zines, they have been know to publish monthly in accordance with gallery launches for each corresponding issue. Daniel Pellisier, founder of Young Healers impressed the idea that DIY aesthetics and printed zines are an important artistic medium, which should serve to provide support for young artists and their respective 'themes and ideals'. Learn more about Young Healers
here.
Nina has shot photos that have gone on to grace the covers of various record sleeves, including Divorce Money's 7". She lays claim to what she can only describe as an 'undying restlessness' which prompts her to travel around, taking photographs and meeting a whole catalogue of weird and wonderful people. She sees documentation as the main emphasis of her photography, stating that she is unable to see herself as taking photos in any other capacity, which in effect is one of the main considerations as to why I value her work so much. The crux of her work for me at least, is about appreciating her life through her lens, and not in any other way. I'd love to be at the shows she's taken pictures of, to see Sex Vid commanding a sea of unruly punk rockers, I'd love to be kicking back with her and her circle of friends as everyone parades round in their Saccharine Trust denim jackets and Cult Ritual shirts, leaving Hartmann to document the lazy encounters, not producing them or creating them, but recording them in the capacity in which they undulate.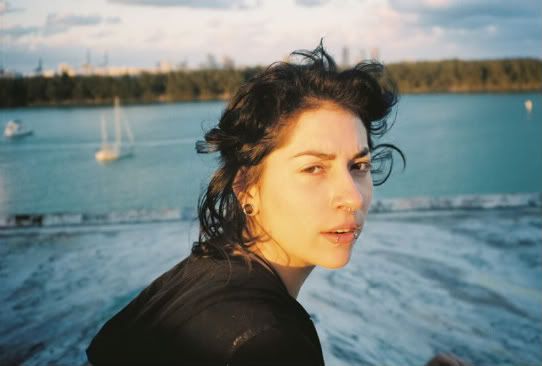 A lot of her works are a showcase of a jaded perspective, In many photos I can almost feel a pulse of apathy in the faces of her subjects, yet others brandish vivacity through doses of colour and common relationship. Nina explains that even the photos she's gone to lengths to set up appeal to her primarily as documentary photography, she believes that these photos come from real ideas, almost a 'materialisation of feelings.' Hartmann is quick off the mark to recognise the key role her friends have in her photography, as a lot of them, she says, are themselves working on artistic endeavours of some kind and as a result are keen to help out whenever the opportunity arises.
Her work often reminds me of Ryan McGinley's earlier series', with many of Hartmann's photos operating by a 'simplicity means everything' template, a great deal of her photos depict lone figures, enveloped in smooth or unnoticeable backgrounds. Such shots expose the subject in a powerful way, no escape, no hiding, just candid reflections of facial features and bone structure. Other works suggest a total flipping of the coin in terms of composition, she has taken a vast number of pictures which convey the frantic hub-bub of clustered people, shuffling and speaking as they ingratiate with each other - almost as if the intrigued eye of Hartmann behind her lens is a mere speckle in the sun.
Nina's work continues to impress me, there is a certain shot of hers showing a male companion dressed all in white, white shoes, white jeans, white minor threat top, spread out across a patch of grass, stroking an equally shocking white cat. The sheer eye catching capability of this image is partly what makes it so great. There is almost no escaping the dramatic distinction between brilliant white and luscious green. I see purity in this photo, coming from both the plain clad subject - with white being a symbol of candidacy and openness, served up on a stark platter of surrounding grass, by the presidency of nature and it's wholesome qualities. I've got to give a mention to the Minor Threat shirt worn by the subject, I can't avoid it really, that would be sacrilege or something, needless to say it gave me a little kick. I'm always keen to include parts of my own personality and taste within my photography, a trait Nina herself could attest to.
One of my most treasured shots of Nina's concerns her sitting besides a steel container, against a backdrop of foliage and open countryside. On first instance it was the soft beauty which ate up all of my attention. Glaringly good looking, 'bonny' facial features and naturally wavy hair, yet her dress sense and pose seperate her from that stillwater air of conformity. Sat with one leg bent across a steel grid; she shows the camera the least ammount of attention. This photo sends me into something of a whirlpool of general unaimed angst, angst probably at myself for not knowing this girl, I'd love to talk to her just to find out what her favourite Void release is .. does she prefer Condensed Flesh or Potion For Bad Dreams? That's the selling point for me, personally, the fact that I can be lured into this. This picture is sold to me under the pretence that I can appreciate not only the traditional good looks on offer, but the subtle references to a counter culture cherished by a select few - precisely the reason I find myself head over heels in awe of this women, this is not a photo that was taken for everyone, it's for those who can take one hundred percent of whats on offer away with them. Hardcore for Hardcore, what the fuck else?
I find myself looking at Nina Hartmann's work almost every day, I wind up coming back to it time and time again, I end up rolling back to it after searching for someone equally as raw, equally keen on taking photos of lo-fi black metal playing Indie Kids - but let me tell you, there simply isn't anyone out there quite as good as of this minute. Please let me know if you find that person. I just can't shake the feeling that some of these photos are what Ryan McGinley might have taken had he been heavily into hardcore punk and listened to My Bloody Valentine on the odd occasion.
Check out Nina's blog at
ninahartmann.blogspot.com