In-between issuing forced lines of unimaginable angst and relaying a stream of poetic social consciousness, Ross Farrar of Ceremony takes some unreal photos, photos that are almost magnetic to the eye. I bought a printed collection of his black and white photos last October, needless to say he has some skill with a camera, a skill which supersedes ordinary lens pointing, allowing him to showcase his keen eye for interesting, vernacular photography.
I am in no doubt that Ross Farrar is one of the main inspirations in my creative development aswell as my fully scoped outlook on living. His band Ceremony are one of my favourite, if not outright most cherished band of at least the last ten years, if not all modern time. Seeing them play live was a millstone for me, the fast paced bludgeoning of the hardcore melee thrashing about behind him coupled with his subversive, eye opening lyrics practically raised me off the ground in euphoria. As a frontman for a hardcore punk band hes gifted the opportunity to impress his lyrics upon crowds night after night, crowds willing and able to soak every syllable up like a rough sponge with a black flag patch pinned to one side. Ross sees himself as a creative writer just as much as he see's himself as a poet, and is currently reading a creative writing course at Santa Rosa Junior College.
I've sat night after blinding night, listening and reading into everything this man has to offer lyrically, banging my head against the wall to 'Ruined', 'Violence Violence', 'Scared People', 'He-God Has Favoured Our Undertakings', 'Still Nothing Moves You', 'The Sick Ep', 'Rohnert Park' and the 2004 Demo, nodding along, eyes closed.

'Pack your fists full of hate

take a swing at the world
these kids stick to themselves
carry angst in their words.

Where we'll never be apart
of this cursed fucking town,

where we stand amongst ourselves
watch it burn to the
ground'

- Ceremony - Kersed
Many of Ceremony's releases have had Ross' photography adorning the covers, in fact fellow Californian Hardcore Punk act Trash Talk have had Ross shoot the back cover for their latest release 'Eyes & Nines.' Ross' work reminds me in parts of the late Dash Snow's work, specifically the portraiture which on occassion seems to me to be merely a Californian take on Snow or McGinley's intrusive look at living life in New York City. Farrar shoots exclusively on film, and has been quoted to say that if and when film becomes extinct he will merely cease to shoot anymore. His interest in photography sparked at a young age, as his father gave him his first camera - a Nikon F1 sometime during early teenagehood. Farrar had a show this February in the Gallery Obscura on the Ocean Campus, called "Portraits from the North Bay." This collection of photos documents the subculture lifestyle he finds himself swallowed up by, drawing a lineage with one of Farrar's earliest inspirations - Larry Clarke.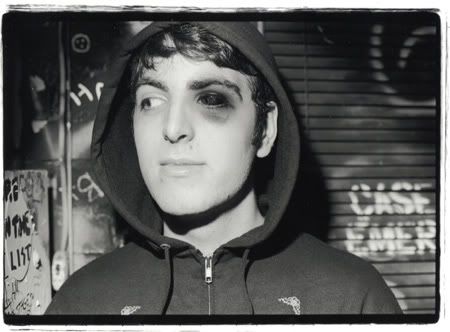 His book 'Society Verse' is a pastiche of not so forgotten memories, of reinventing long felt heart ache with smatterings of rhythm and intelligent photos. Tales of the band's inception and quips regarding all sorts of violent or non violent encounters litter the 128 pages of lyrics and heart string poetry. The reverse cover depicts a skateboarder holding up a deck as to masquerade his identity. The skateboard reads 'Bridge Nine' - Ceremony's current record label, and above the font is an image of the Washington DC Senators Office being struck by a bolt of lightning, for anyone even remotely interested in hardcore punk, this is a homage to the Bad Brains cover of the same image, know throughout the hardcore world almost as the flag we carry into battle.
Ross shoots in black & white as well as colour, often his photos will include but one subject or focal point allowing him to pin point where he wants your attention to rest. It's through simplsitic ideologies such as these that Ross' photography speaks out to me, he jettisons any notions of histrionics, trusting himself only to honest photography.
I've spoken to Ross on one occassion, it was October 18th 2009, in Leeds, at a small venue called The Well. He was walking past in shorts and a plain shirt - flagrantly disregarding the late autumn chill outside, I collared him and introduced myself, unloaded a quick line of my love for the band onto him and begged him to play Dead Moon California later that night. They opened with it and I lost my mind somewhere withn that four minutes and four seconds, never to be found again.
'Back in 84'
I nearly choked on the U-cord
until my dad came and cut me loose
he said, 'the pain you felt today, it will never go away'
and 'the best way out is always through.'

He said,
watch out for the world trying to shape you
living here
you got to know the truth'
twenty five years later
everything is the same,
a civilization gone deaf-mute.

- Ceremony - Back in '84
Of 'Back in '84' Ross writes this in Society Verse, 'When I was born my umbilical cord was wrapped around my throat and I almost suffocated to death. Luckily, my father stepped in and cut the rope, giving me my first breath of air. The line, 'The best way out is always through' is a Robert Frost quote, which I forgot to reference in the insert. This is one of my favourite quotes of all time, and thank you to Sarah Bingham for introducing it to me.'
One of my favourite Ross Farrar photos is a colour image, concerning a man bearing his two palms to the camera
(See previous post)
. In his left hand is a vividly coloured red leaf and in his right a small fish which may or may not be alive. I am powerless to describe this photo as nothing other than magnetic, there is something oddly stirring about the intensity of the leaf, hapless in one hand. Perhaps a comparison or contrast is pleading to be made between the fish and it's leaf counterpart - that they are or were both living things? That they now hold an importance somewhere between minute and insignificant? Or maybe it's just a foray into what can be dredged up from local streams, beautiful or not, ugly or realistic. The contrast between the shockingly bright upturned palms and the out of focus water of the background gives this image a sharpness or austerity which marrys so keenly with the off kiltered symmetry between limbs. This picture fascinates me in unidentifiable ways, I wish I had taken it, I could intrude upon it for hours, no detail avoiding me.
Another colour image favourite from Ross Farrar's collection is the shot he took of a cinema advertising board raised high upon a roof. The focus, candidly, is the text upon the board which in no way is escapable as it reads 'Macho Men 3, Super Fag, My Pee Pee Balls' down the left column and 'Aunt Lily Eats Cunt, God Over Vagina, Little Man Big Penis' along the right. Typically vernacular photography from Ross, noticing the interesting, the obtuse, the wayward and the wrong within the society he finds himself in.
In actuality, I could not be more at ease trying to nail down what it is about Ross' artistic expression which I take most inspiration from, It's more a careful balance between his poetry and love for the written word, his part in making Ceremony the force that they are and his own highly personal photography. All together, like one creative brain-stew. I look at his work with eager eyes.