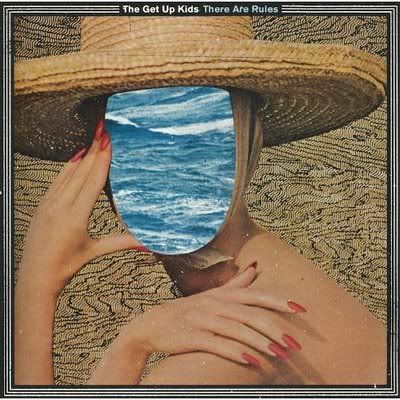 2011
Quality Hill Records
Pete Wentz once said that if it weren't for the band The Get Up Kids, then Fall Out Boy would never have even formed. Mark Hoppus went as far as to have Kansas City's finest popular punk export soundtrack the moment of his proposal to his wife. The slew of bands willing to continue this vein of Get Up Kids worship could pack out the fabled Outhouse in their native state three times over.
The Get Up Kids' break up in 2005 heralded a new age for 'emotive' punk-cum-indie rock. Their coveted throne came to be squabbled over by a commotion of young blooded bands; Chicago's Fall Out Boy, the Joshua Cain led Motion City Soundtrack and perhaps even the ever enduring Saves The Day - who have weathered an overabundance of lineup changes - remain close to the front of the pack. Their hiatus proved merely to be a four year stop gap, with the fully reunited 'Kids announcing batches of shows in 2008 and 2009. This year sees the release of 'There Are Rules' - their first studio album in almost seven years.
'There Are Rules' needed to sound like a surefooted boot-stamp crashing the band back down onto the map of rock and roll. It needed to expel all of the most resilient cobwebs and kick up a spray of spit & sawdust into the faces of the contemporaries that The Get Up Kids, however inadvertently, may have spawned themselves. Track one, 'Tithe' rings in with a ballast of distortion and a mutated sample which rather disbelievingly wouldn't sound out of place on a 625 Thrashcore release. Pseudo-powerviolence blip behind us, this opening track snaps into a life of frenetic drumming and colourful riffing. Matt Pryor treats us all to pinch after pinch of his rousing vocals, carouselling between temperate tones and the iconic, desperately strained textures that could be found on 1997's 'Four Minute Mile.'
James Dewess makes himself known on 'Shatter Your Lungs' - tapping down on those keys of sunshine to give this track a rather dated, dare I say it, 80's vibe? Injected with convulsive percussive jibes, the repetitive, annoyingly discotheque-esque palpitations fail to conjure up anything quite like the hooks of their past records. This entire release feels somewhat sparse, lacking the fibers of electric melody that all the Jimmy Eat World fans latched onto in the first place. It feels smoother, more compressed, and ultimately less like a whistle-stop jaunt through the mind of a post-adolescent awkward kid nextdoor. An angle the Get Up Kids have celebrated playing from ever since Jim Suptic learned how to string together a Descendents cover.
'Better Lie' amuses itself on a treadmill of throbbing synth, the enate problem with running on the spot like that is that you're bound to go nowhere. There are peaks to 'There Are Rules,' which prod tentatively at total fruition, yet while an out-stretched palm clambers for such a goal, a pair of dead weights drag behind, limited by repetition and under-impressive hooks. The shrouded vocals and the cross cutting guitar pepperings, once added to the bass-heavy gristle, make the next track 'Keith Case' something that Motion City Soundtrack will have wished they'd written. It would not be fair to say that this release fails to provide anything of substantial worth, however the nagging realisation in the back of many people's minds will be that the four year wasteland of Get Up Kids absenteeism was not really a wasteland at all. The emptiness was farmed and cultivated by an uprising of satellite bands such as the aforementioned Motion City Soundtrack; bands who have gone a long way to blur the line between The Get Up Kids and their chasers. A line which a decade ago was an unsurpassable chasm within the emo world.
The important question that needs to be addressed is whether or not The Get Up Kids made the right choice in altering their palette of indie rock licks and hot sap vocals, bypassing any and all cries of 'no progression' from scene bulbheads - or whether a riotous return to the soundscapes of 'Something To Write Home About' would have been more warmly received. 'There Are Rules' is more hum than rattle, more roll than shake, and unfortunately it may well lead this once championed band to rest on a shelf of nostalgia rather than elevating them to greater heights.