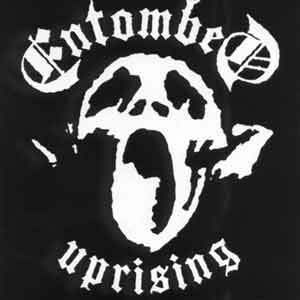 Download Entombed - Uprising
Over the past few months i've really gotten into Entombed. As a band they've varied their musical style throughout their career, shifting from out and out Death Metal on first albums 'Left Hand Path' & 'Clandestine' to a more Hardcore Punk enthused, dirty Rock 'n Roll texture on later albums. My favourite Entombed release is 'Wolverine Blues' so definitely check that out, however i wanted to talk about 'Uprising' purely because this was Entombed's bounce back album after dropping the blunder that was 'Same Difference'
It's pretty obvious just from the opening track 'Seeing Red' that Entombed wanted to throw some more Death Metal vibes back into the mix. There's a busier, gnawing quality to 'Say It In Slugs' that really gets driven home by LG Petrov and his rediscovered howling. Petrov's change of vocal tact is another example of Entombed harking back to their earlier death metal roots.
I'd pick out 'Scottish Hell' as one of my favourites from the entire album, it's not really the album's centrepiece but there's something outright fucking eerie from the start & 30 seconds in you get hit with some properly harrowing guitar musings.
'Come Clean' erupts from the word go, instantly conjuring up visions of Motörhead for me. In my opinion Entombed are among the best in their genre(s). They know how to write seriously savage chunks of ballsy 'Death & Roll' so to put it.
If you want to really get into Entombed i recommend the first two albums along with 'Wolverine Blues' which overall have a sharper, less corrosive sound, showcasing the band in the early stages of their Death Metal era.