Here for you to enjoy are a few pictures of the original artwork commissioned for Gallows - Grey Britain. The scenes depicted were deemed so damned extreme that the record label Warner Bros wouldn't allow Frank Carter & Co to use them, which led to the creation of the alternative artwork we're all now familiar with.
I had been trawling the internet for even a glimpse of these after losing out on getting the expanded limitied edition of Grey Britain, so here you are fucking enjoy! These came courtesy of
Stuart
.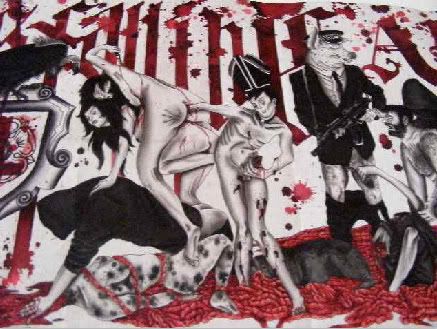 Policeman appears as swine & gets a handjob. There's also rape going on? Some religious woman impaling herself and er.. servicing another woman with Vultures presiding over the scene that takes place on a bed of intestines it looks like.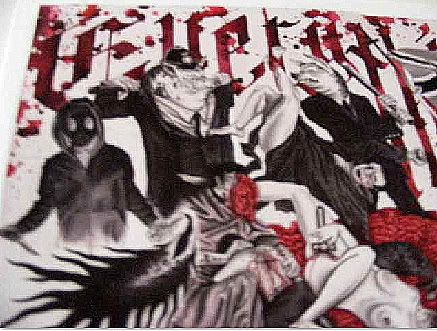 The inverted cross ever symbolic of the anti-religion. The glorious full body impaling of a female by the Union Jack & suited pigs terrorize a young woman.
The scripture in the background spells out 'EVERYTHING IS FALLING APART', which obviously is pretty apt.