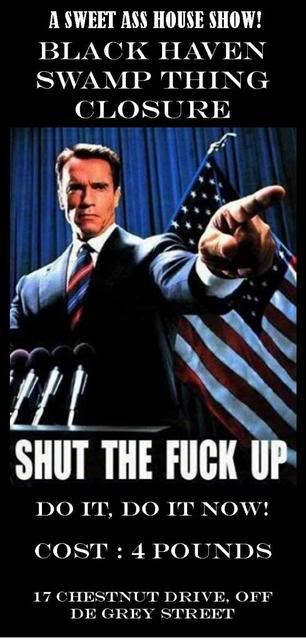 So last Friday i went to Hull for pretty much the first time, to meet up with my mate Josh and head off to what would be an
insane
hardcore gig. Swamp Thing (Hardcore Punk from Virginia US) were touring Europe and the Hull leg of the tour had been swapped from venue to venue because of various double bookings i was told. Which eventually resulted in a kid called Ben (i believe?) offering to host the gig at his house just round the corner from the Adelphi Club.
The house itself was quite big but the room in which the mayhem would take place could hold a mere 15 people i would say, comfortably. When around 30 or so kids had turned up ready to raze this place to the ground. The first band to play was Closure, a local band who kept up a punishing facade of powerviolence and unfortunately had to cope with alot of stopping and starting thanks to involvement from the local Police force who just had to stick their noses in. Either way that didn't stop everyone from unleashing everything they had in that one cramped living room and as you can see from some of the shots taken from Stuarts perch on the window, bodies went flying.
Black Haven had travelled all the way from Belgium and upon their arrival it was difficult to tell whether they were stoked to play such an intimate show or pretty disgruntled that it wasn't at a more accommodating venue. Any such doubts dissipated the moment they took up their instruments, blasting through a wholly intimidating set that shook the cavity walls and sent limbs flailing.
I went out the front of the house and had a good look at the Swamp Thing merchandise, after the gig i went up and bought their new record
In Shame
on white vinyl which is fucking tasty! We also had a good chat with a couple of the crew they had brought over with them for the trip. I remember going over how good
Trap Them
are with a freshly inked chap wearing a peaked hat. When it came time for the headliners to play everyone packed in like sardines and eagerly awaited the American Punks to ignite the atmosphere, they played a few tracks from their new album like Crush, In Shame & Hiding providing the soundtrack to a melee of sweat and aggression. One kid was left tight up against the corner of the ceiling balanced on another kids shoulders between songs and when the noise started up again he launched himself back across the room. One of their crew apparently said this was the most manic Swamp Thing show he had seen! Bearing in mind he's been with them since the beginning.
This is if anything a testament to the DIY ethic of the Punk world, 'The venue is double booked? Well nevermind the bands can play at my house' - That's what I'm talking about! It also goes to show how dedicated many of the Hull fans are to keeping the scene fresh & alive.
This is Josh getting cosy with Swamp Thing's lead vocalist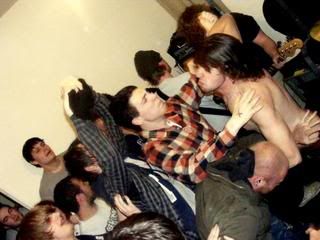 All photos are courtesy of
Stuart
, I don't even think I'm visible in many of these photos but at least my sweet new shoes got some exposure...